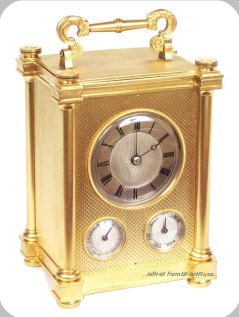 Stock No. C1028
Price: SOLD
A small English gilt carriage clock
c1850
A small English gilt carriage clock, with subsidiary dials for day and date, and striking the hours and half hours on a gong.

The case is of typical English construction the various layers being held together by threaded rods in the corner pillars

The engine turned case has retained its original gilding.

The front panel is engine turned and gilded with fine decorative bezels around the dials

The silvered dials are engine turned at the centre and have painted numerals.

The top and side panels of the case are also engine turned, the rear-opening door is plain.

The 8-day movement has twin chain driven fusees, maintaining power, an underslung platform lever escapement and a plain uncompensated 3-arm balance.

Case height 6¼ inches including handle.

Due to wear the date indication between day 27 and day 7 is not very precise.