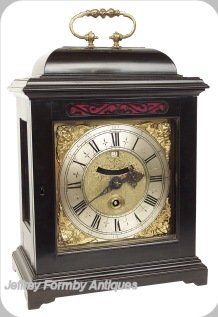 Stock No. C1065
SOLD
An ebony veneered bracket timepiece by
Jonathan Lowndes, London c1695
The clock has a dome-top case with decorative brass carrying handle and pad feet.

Clock case height 16 inches, including handle.

The timepiece has pull quarter repeat on two bells, signed on the dial plate J Lowndes London.

The dial has a pendulum aperture, date aperture and cherubs head spandrels.

The silent pull mechanism strikes the hours on one bell and the quarter hours on a second bell.

The 5-pillar movement (centre pillar latched) has a single fusee with (replaced) verge escapement.

The decoratively engraved backplate is signed in a cartouche Jonat Lowndes London.
Jonathan Lowndes was born circa 1657 and married Grace Allen in September 1679. He became a free brother of the Clockmakers Company in July 1680 and worked in Pall Mall, London until about 1702.