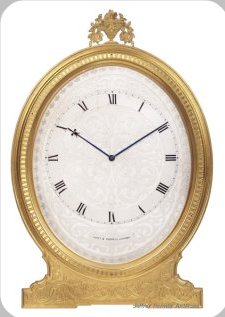 Stock No. C1079
Price: £8,950
A large 8-day oval strut timepiece made by Thomas Cole, London c1861
The clock has an engraved and silvered dial measuring 6¾ x 5½ inches with the retailer's name Hunt & Roskell London in a cartouche below 6 o'clock.

The clock has an engraved and gilt brass case with a fold out strut, the latter with small wheel at the outer end. In the picture of the back of the clock you can just see the small wheel at the outer end of the fold out strut.

The timepiece has blued steel hands, the hour hand of fleur de lys pattern.

Access to time the regulation lever is via a shuttered aperture on the rear of the case.

The timepiece has the serial number 1665 stamped on the case in 3 places (rear of each foot and bottom of oval rear cover) and also on the rear of the dial.

The clock has a typical Thomas Cole movement with a lever escapement and an uncompensated balance.

Neither the movement nor the case is stamped 'Thomas Cole' but the design, the engraving and the serial number all indicate that this timepiece can be attributed to him with confidence.

Thomas Cole was born in Somerset in 1800, the son of a clockmaker. Cole moved to London in the early 1820's but was not working independently until about 1838. By 1845 Cole was calling himself a 'designer and maker of ornamental clocks' and exhibited as such at the Great Exhibition of 1851. He is justly famous for high quality clocks of individual design always with fine engraving. Thomas Cole died of typhoid fever on 3rd January 1864.