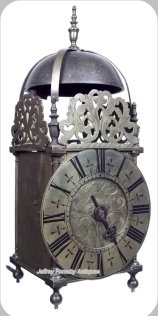 Stock No. C1151
Price: £4,750
An early eighteenth century brass lantern clock by William Lee, Leicester, c1720
The 30-hour, rope driven movement has an anchor escapement, but originally had a verge escapement. As with many lantern clocks it was probably converted to anchor escapement early in its life so as to improve the timekeeping.

The clock has a 6½-inch diameter chapter ring with scroll engraving to the centre and a single hand.

The clock strikes the hours on a bell. The brass case has three foliate frets surmounted by a bell and brass side doors.

Clock height 15½ inches including finial.

The brass frets are original as are the doors, the bell, the bell finial and the hand. The hoop is original but the spikes are modern replacements. One finial (right rear) is bent.

William Lee, the son of clockmaker Roger Lee, was free in 1716 and died in 1744.