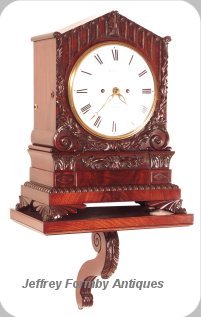 Stock No. C785
Price: £3,950
An English mahogany bracket clock
by Christopher Williamson, London c1840
An attractive carved mahogany bracket clock complete with its original bracket.

The clock is signed on the enamelled dial Williamson London.

The clock strikes the hours on a bell and has strike/silent and pull repeat features.

The 5-pillar movement has an anchor escapement with chain driven fusees, and has gilt brass hands.

The backplate is engraved C. Williamson London, the frontplate has the serial number 9283 and the rear of the enamelled dial is marked Rd. Symes.

Clock height 18 inches (27½ inches including the bracket).
Christopher Williamson is recorded as working at several addresses in Cornhill, London from about 1821 to 1847. Richard Symes is recorded as a clock dial enameller between about 1816 and 1835.